Having worked in tourism all my life, I was lucky to participate in numerous study tours, all around the world. However, the most special invitation arrived from ABA Turisztikai Egyesület (ABA Touristic Association) at the end of October, as they invited us for a study tour to my hometown and its surroundings: Abaúj and the Zemplén Mountains. I spent the first 18 years of my life in this area, my parents still live there, I was breathing Zemplén air all my childhood, so I was wondering what more anyone could show me. Turned out that quite a few exciting things, places I have never even heard of and wonderful people I have never met before.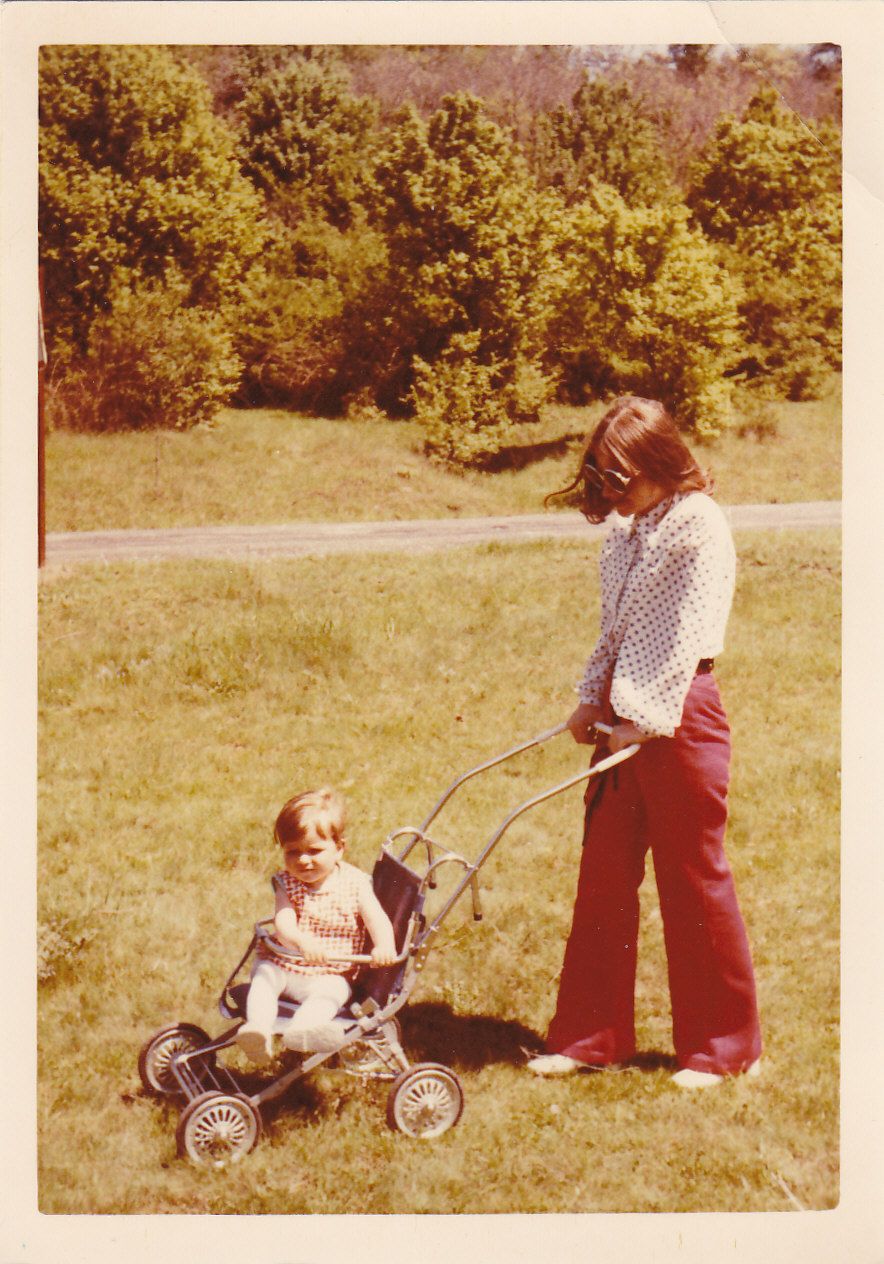 I believe this area hosts the most cultural sights per square kilometer in Hungary, as it's full of medieval castles, historical monuments and exciting museums. One of the most famous castles can be found in Boldogkőváralja, where I was first "taken" many years ago on a sunny April day, just one day before my birth. (Fun fact: the name translates into "The Castle of Happy Rock.)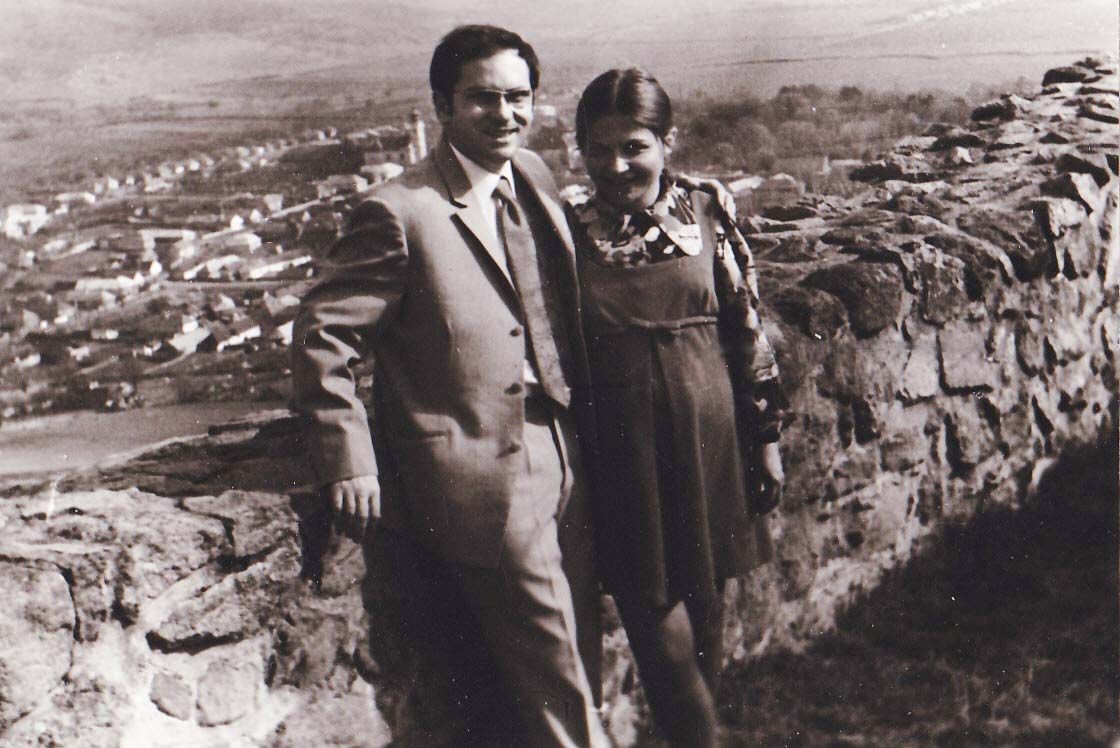 The Lion's Rock where my parents were standing is probably the most instagrammable sight in the area today. As this time we did not go inside, I have borrowed a fresh photo from Travellina, one of the most popular travel bloggers in Hungary.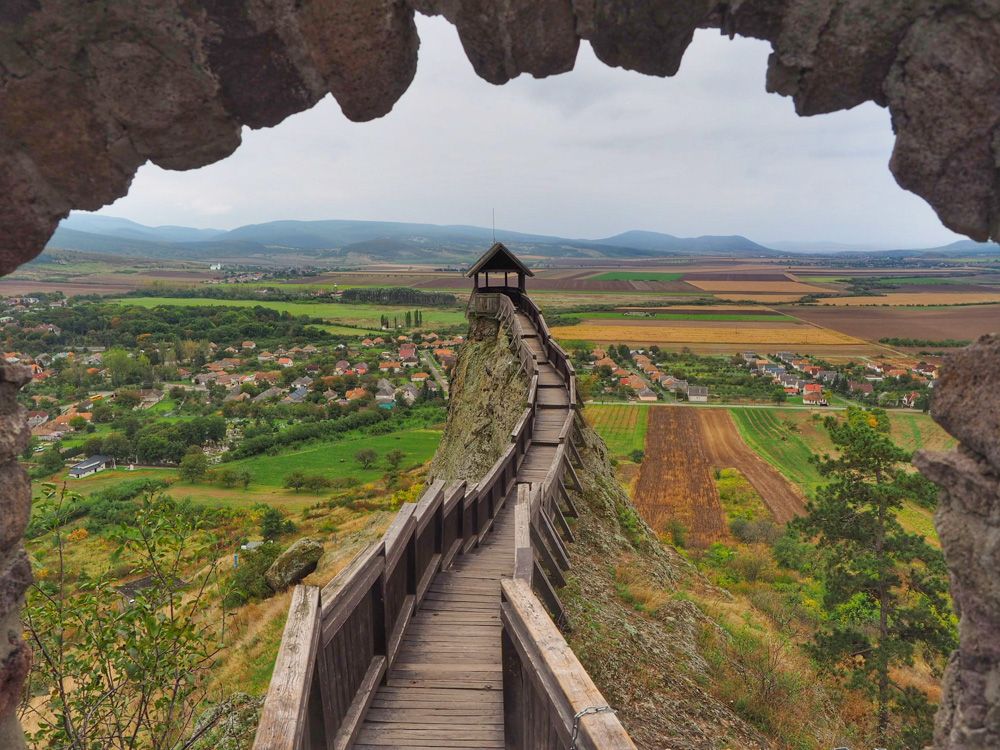 Zemplén is also a popular destination of wine tours, being home of world-class Tokaji wines. However this time the focus was not on wine or castles, but on the concept of slow travel, real life experiences, meeting local people and tasting artisan products from the region. The Zemplén Mountains hide a wealth of treasures and the ABA Touristic Association has been doing a great job at finding hidden gems and supporting local suppliers to become active participants in tourism.
With milk and honey
By the time we arrived in Göncruszka from Budapest it was lunch time, so our first stop was at the brand new Tejjel mézzel restaurant. The name means "With milk and honey" in English, and it is no accident that the name refers to the Bible. The restaurant is run by the Calvinistic congregation of Göncruszka, led by a determined priest, Levente Sohajda. Children and elderly of the village have lunch here, so they have company as well, which is just as important as nourishing food. They are also open to the public, offering high quality dishes at very affordable prices, and by eating here we support their projects.
Not long after the priest had moved to the village with his family, the local school was closed. With tremendous work they have created a new school that almost 200 children attend today, extremely poor or handicapped kids among them. The congregation also has a bio-garden as well as an apiary, and selling thousands of jars of top quality honey contributes greatly to financing their projects. All this seems like a miracle in an area where lot of families suffer from poverty and unemployment, but it's not. It's the smart ideas, hard work and dedication of a group of passionate people. I wish every village in Hungary had a similar initiative.
The restaurant itself is really cosy, has a natural, modern design with lot of wood and soft colours.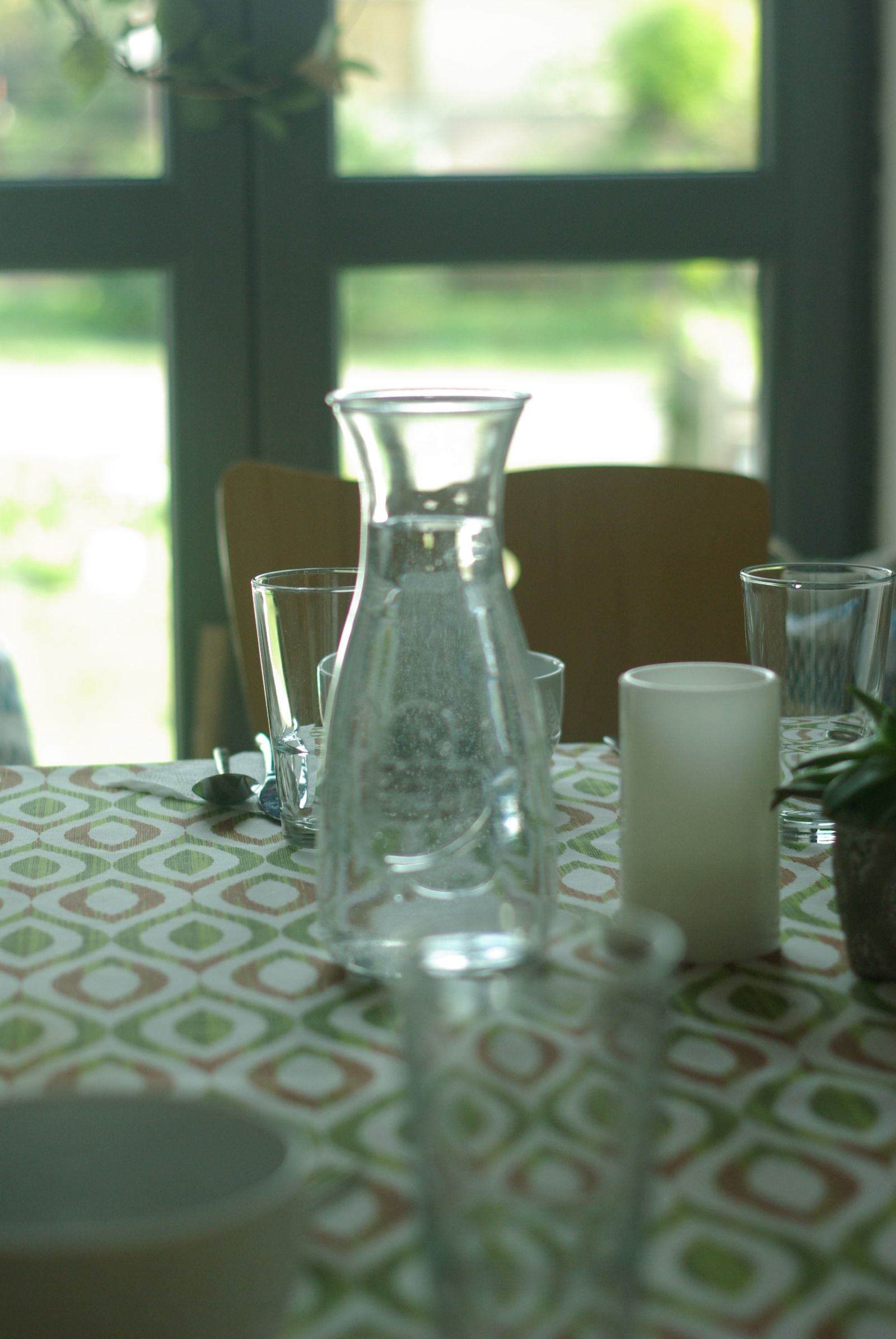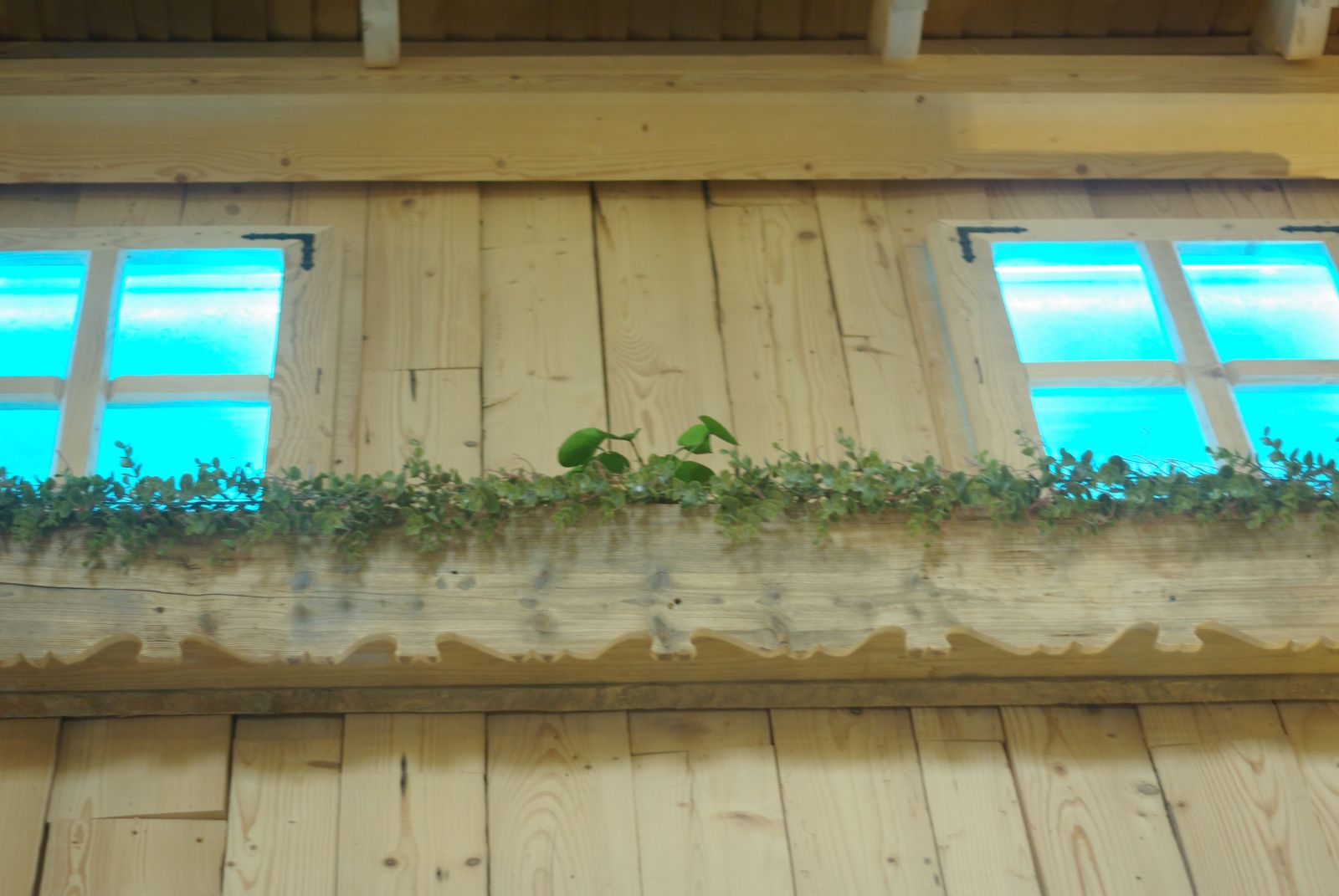 The most famous Hungarian book
Let's continue with the story of another amazing Protestant priest, Gáspár Károlyi, who not only translated the entire Bible into Hungarian for the first time, in 1590, but also edited the Holy Scripture and organized the printing of about 800 copies. Out of the 50 copies that survived the following 4 centuries of turbulent Hungarian history, about 20 can be found in Hungary today and you can see an original copy in the church of Vizsoly. As it represents an immense value, it's protected in a cabinet, but you can take a copy in your hands. It's really heavy, weighs about 6 kgs and has 2412 pages.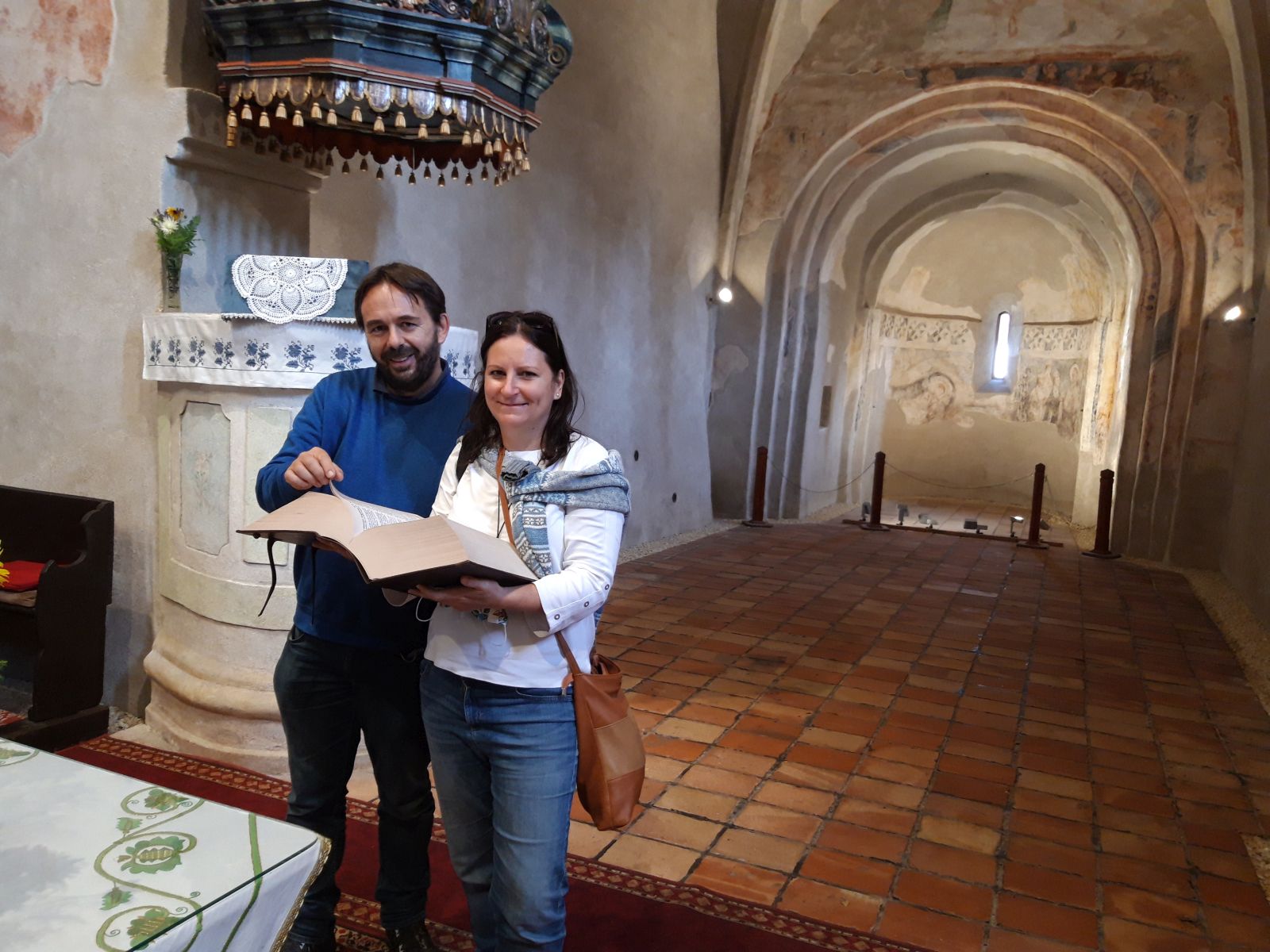 The church itself dates back to the 13th century, when it was richly decorated with frescoes. Later, in 1560, it became the property of Protestants, so the walls got painted with simple lime and the frescoes were hiding underneath for 400 years. Thanks to the amazing work of restorers, we can enjoy some of these frescoes today. As we run many canoe tours throughout the year, our favourite fresco was the one of St. Peter and St. Paul, holding paddles in their hands. We loved the exterior of the church as well, its white-washed walls, the blue sky and the yellow autumn leaves made it look picture-perfect.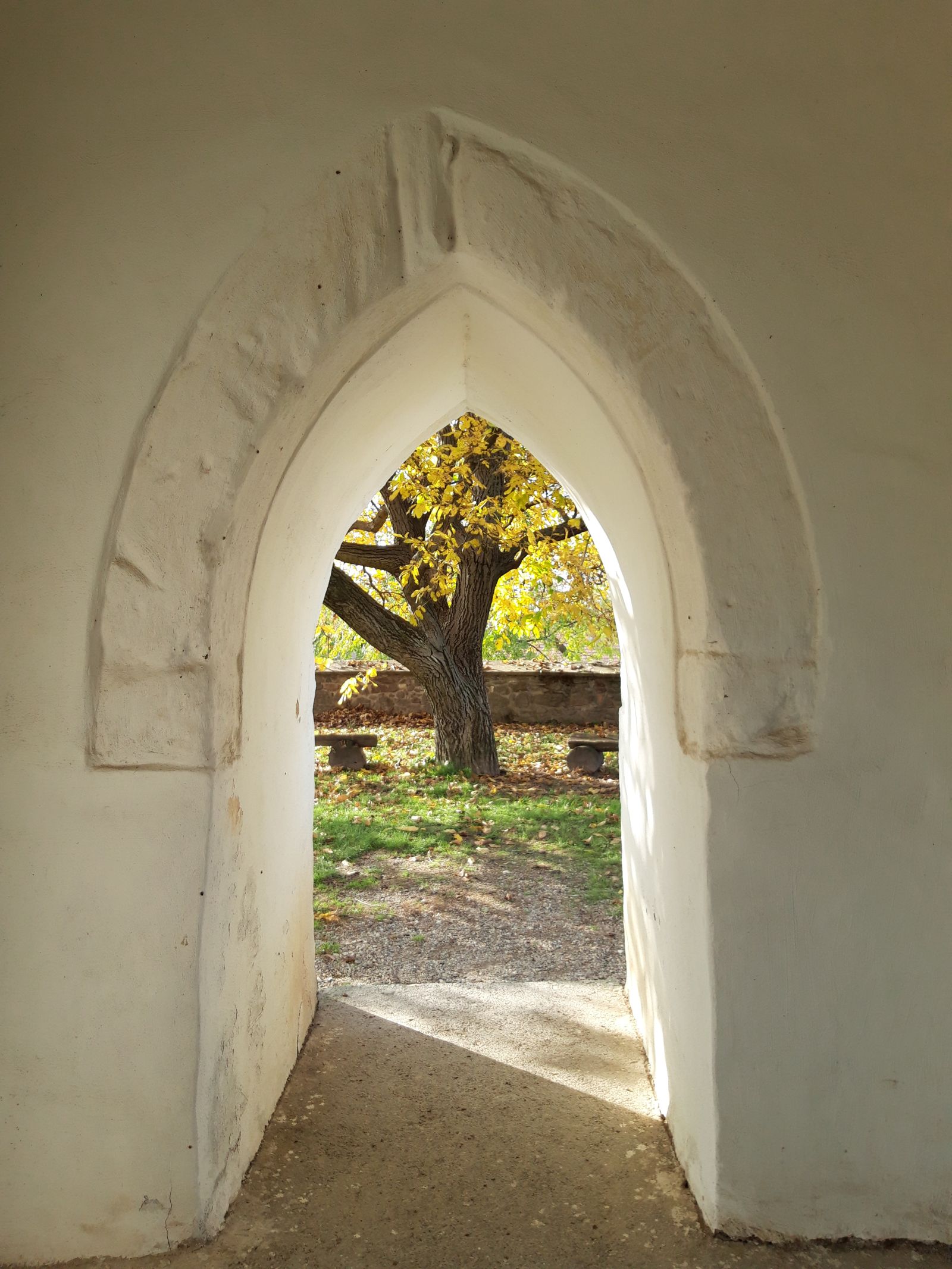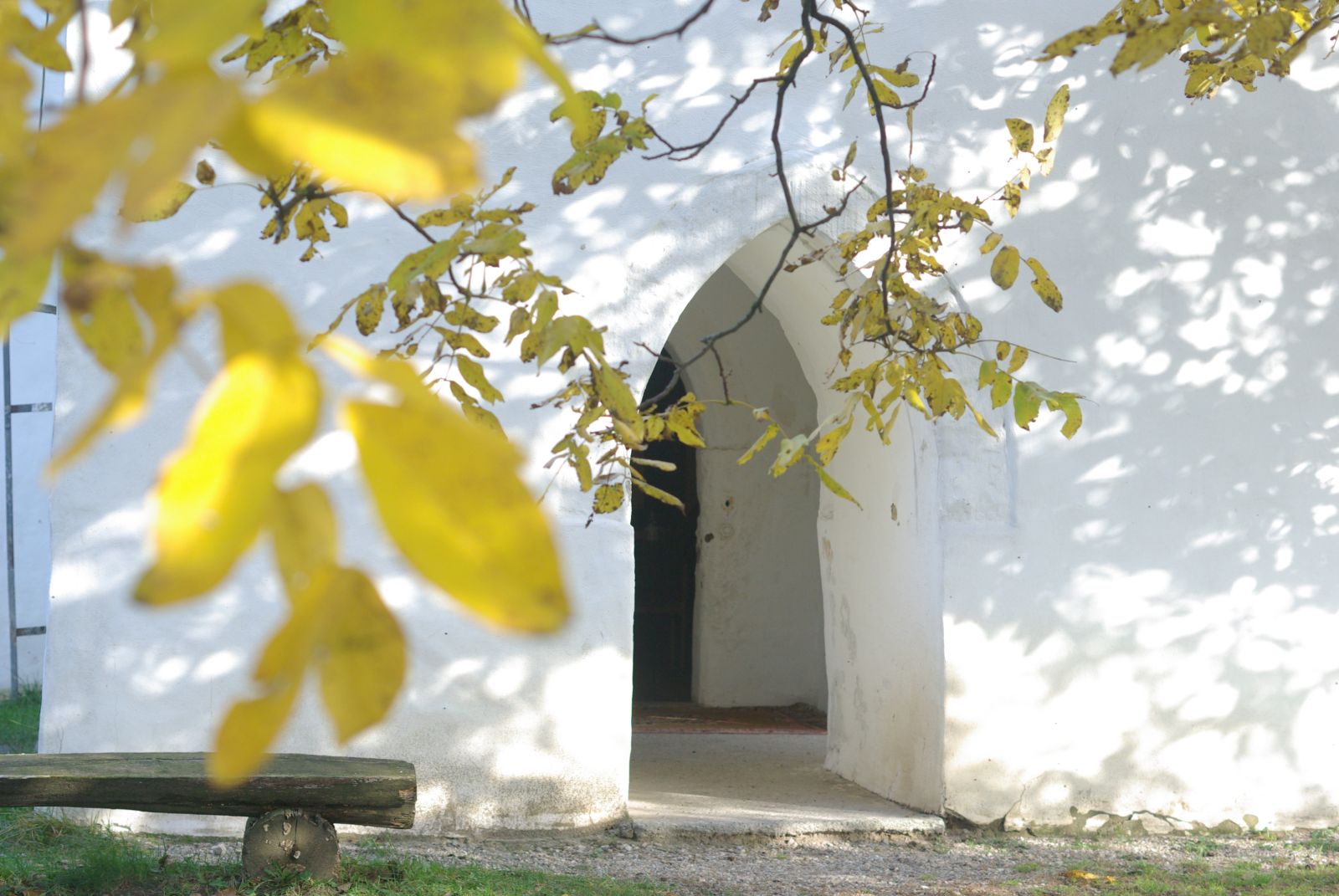 There is a museum about the history of printing next to the church, where you can also try traditional methods and print your own first page from the Bible. Of course, Attila had to try it. It was fun, but just imagine printing 2412 pages the same way. When we were looking at these photos at home, our 6-year-old asked Attila: "Are you a butcher?"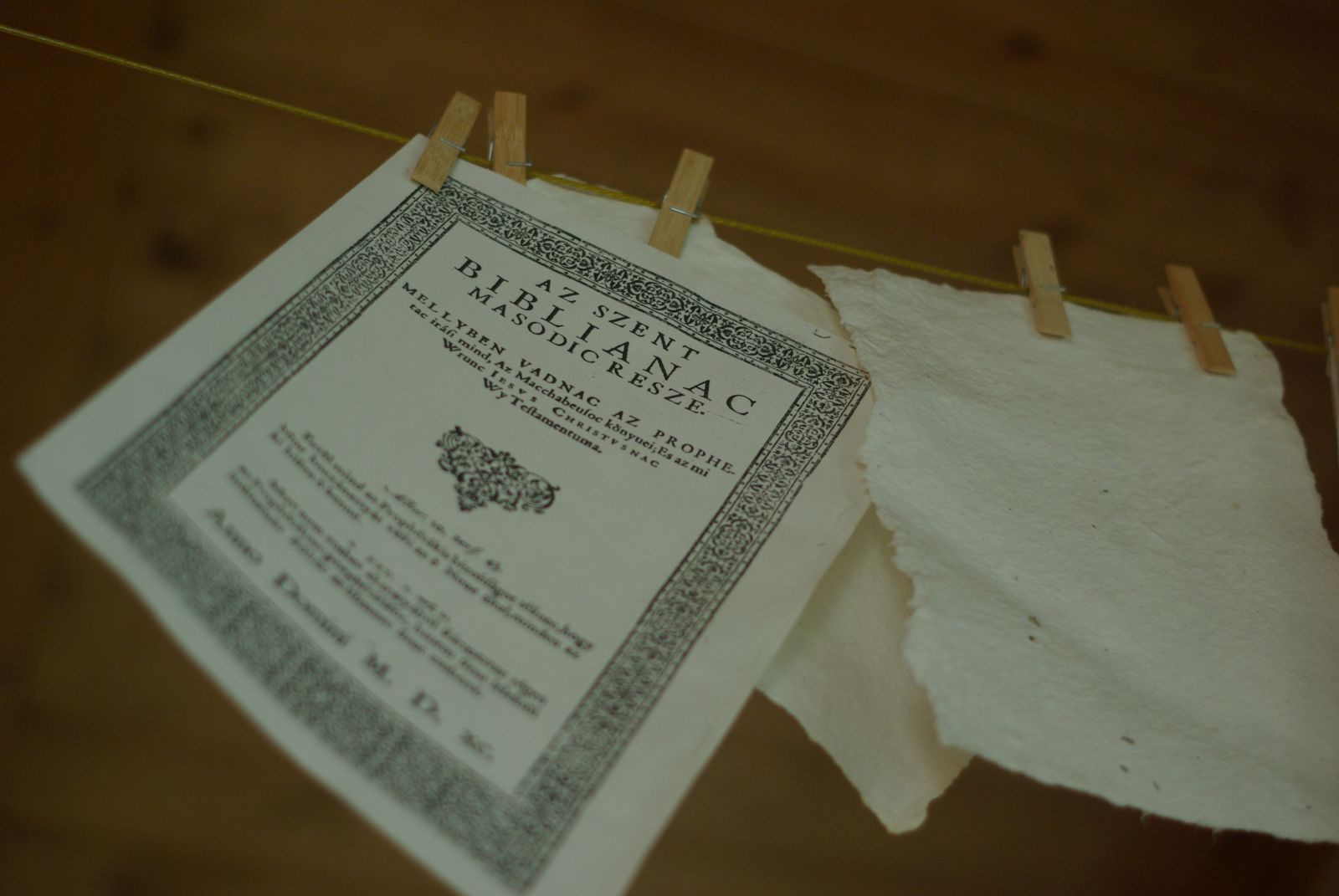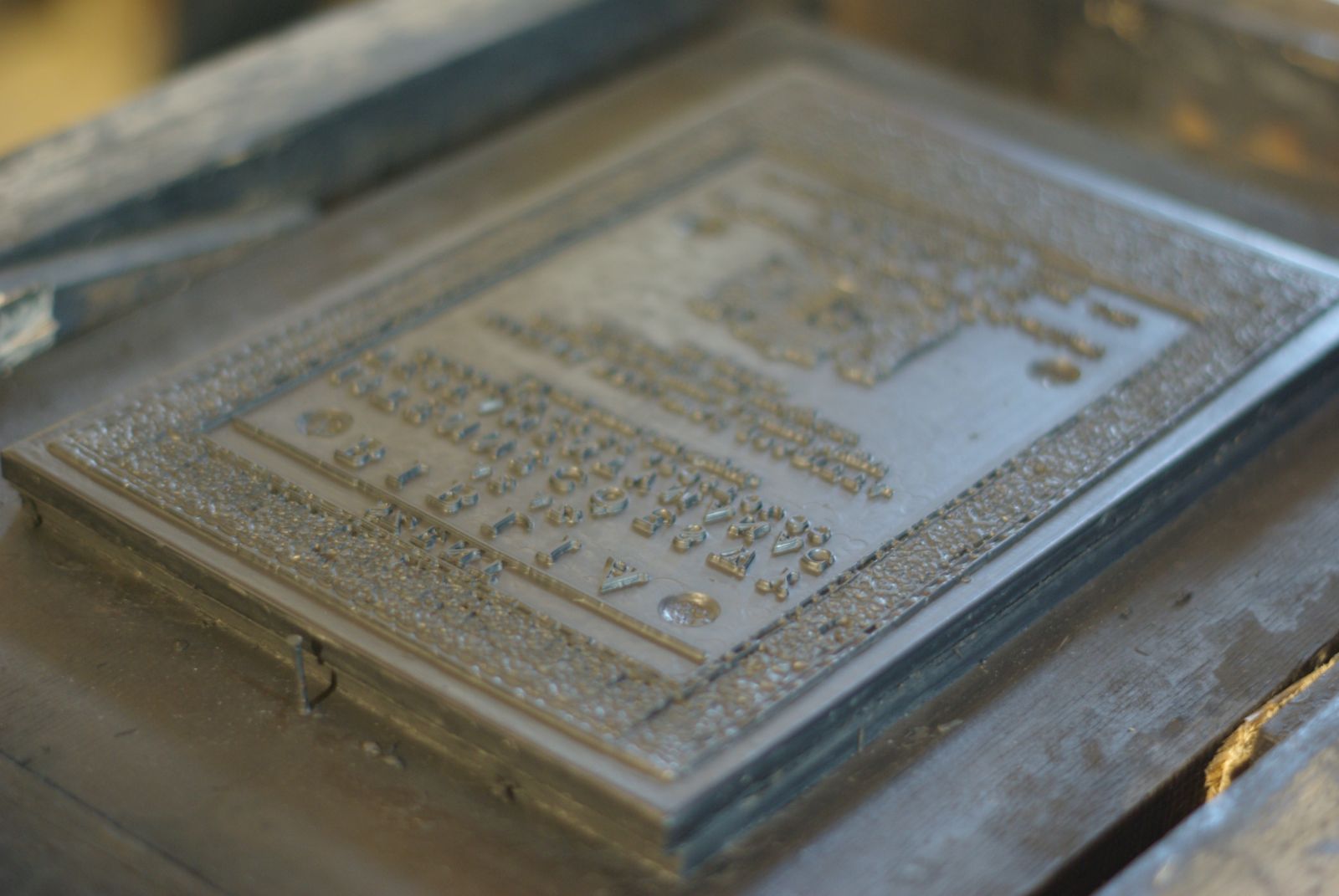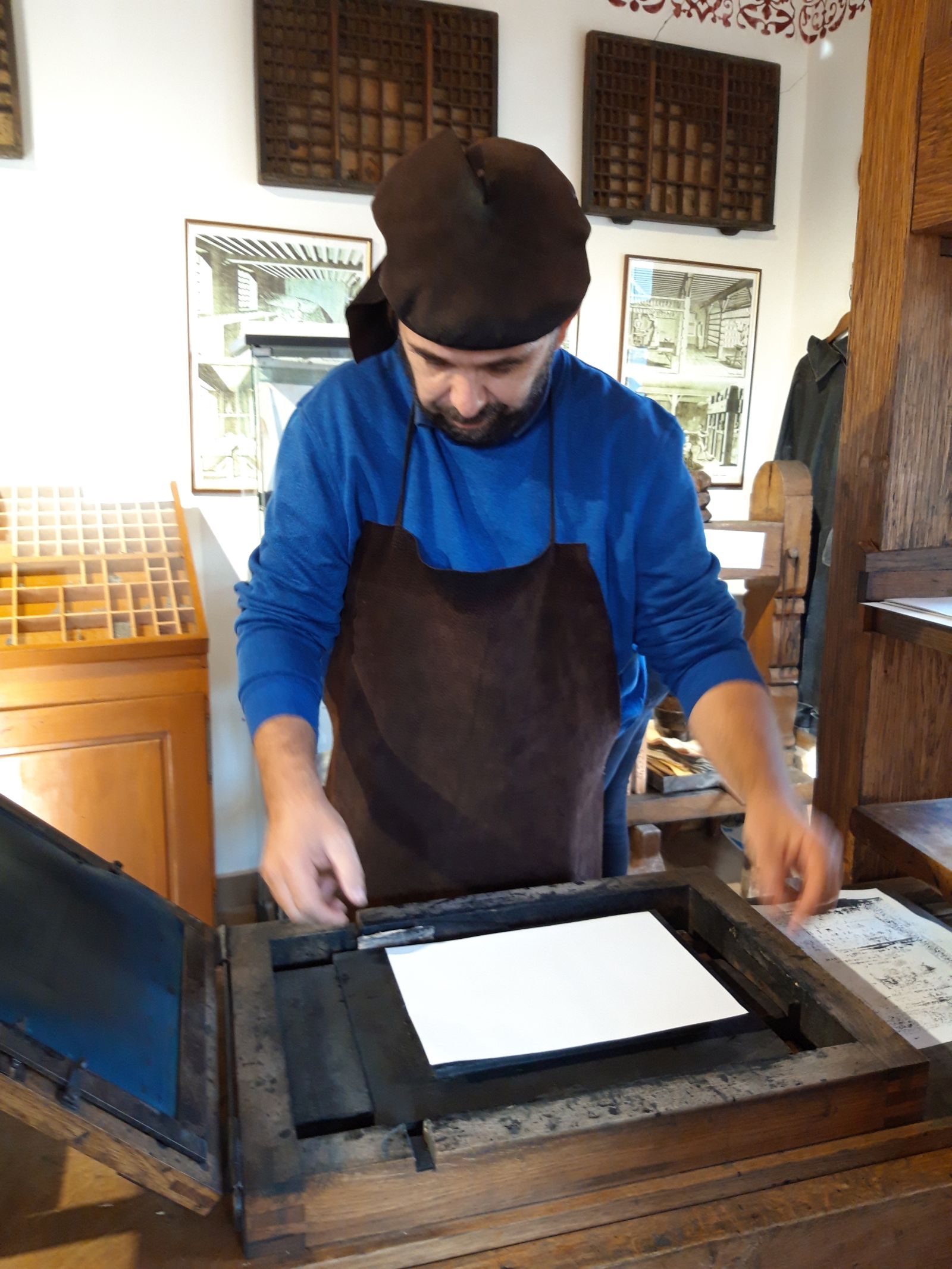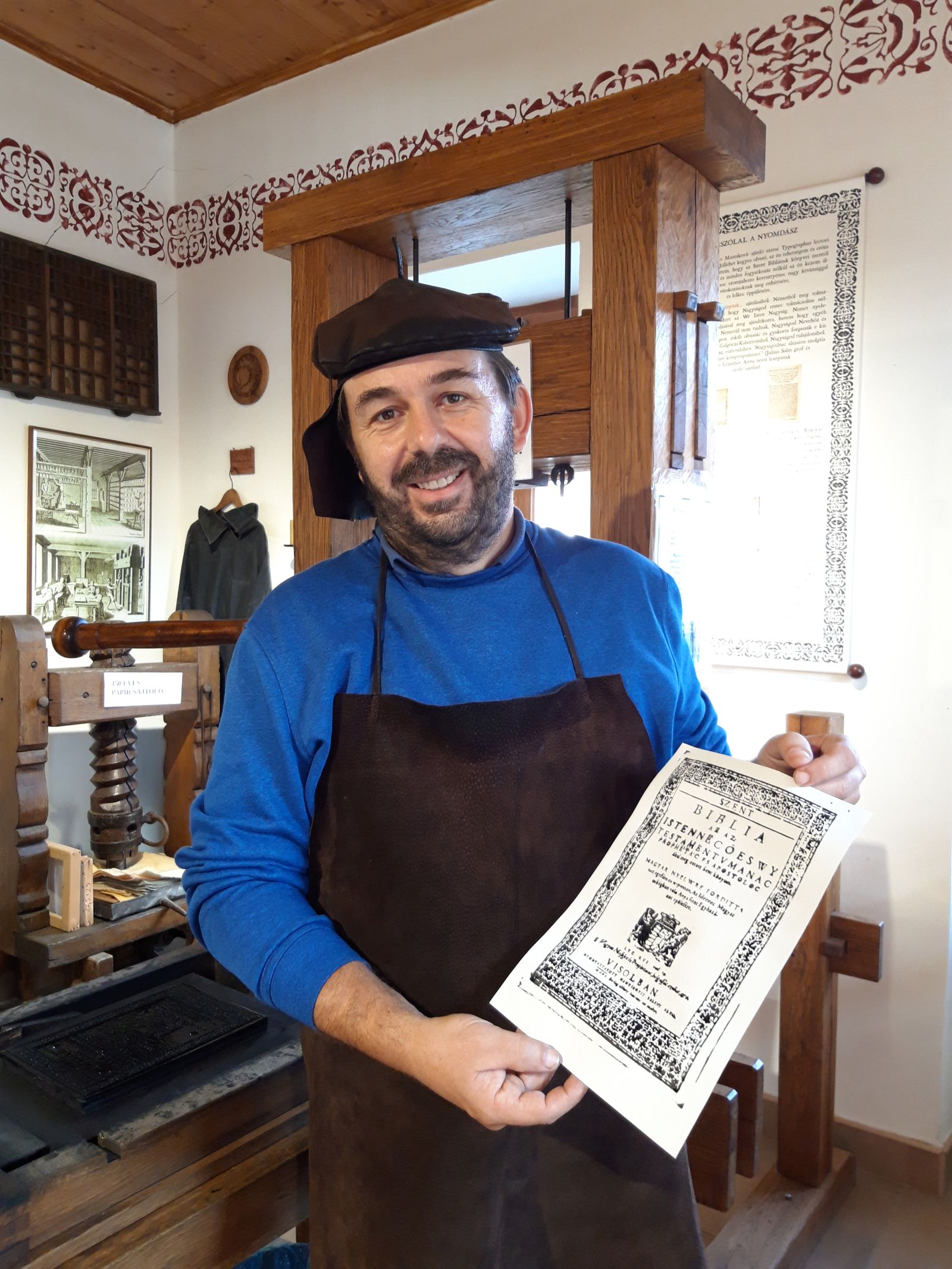 More honey
Just a pleasant walk away from the church you can find the Apiary of Mézes Gergő. Mézes actually means "honeyed" in English, and of course that's not his real family name. Sounds great though. Gergő is absolutely passionate about honey and bees, and knows all about them. His dad got his first bee family in 1996 and Gergő was helping him already at the age of 12. Later he followed family traditions, studied agriculture at the university, passed his master apiarist exams, and in 2008 was elected "Best beekeeper of the year". He knows what he is doing and is happy to talk about it.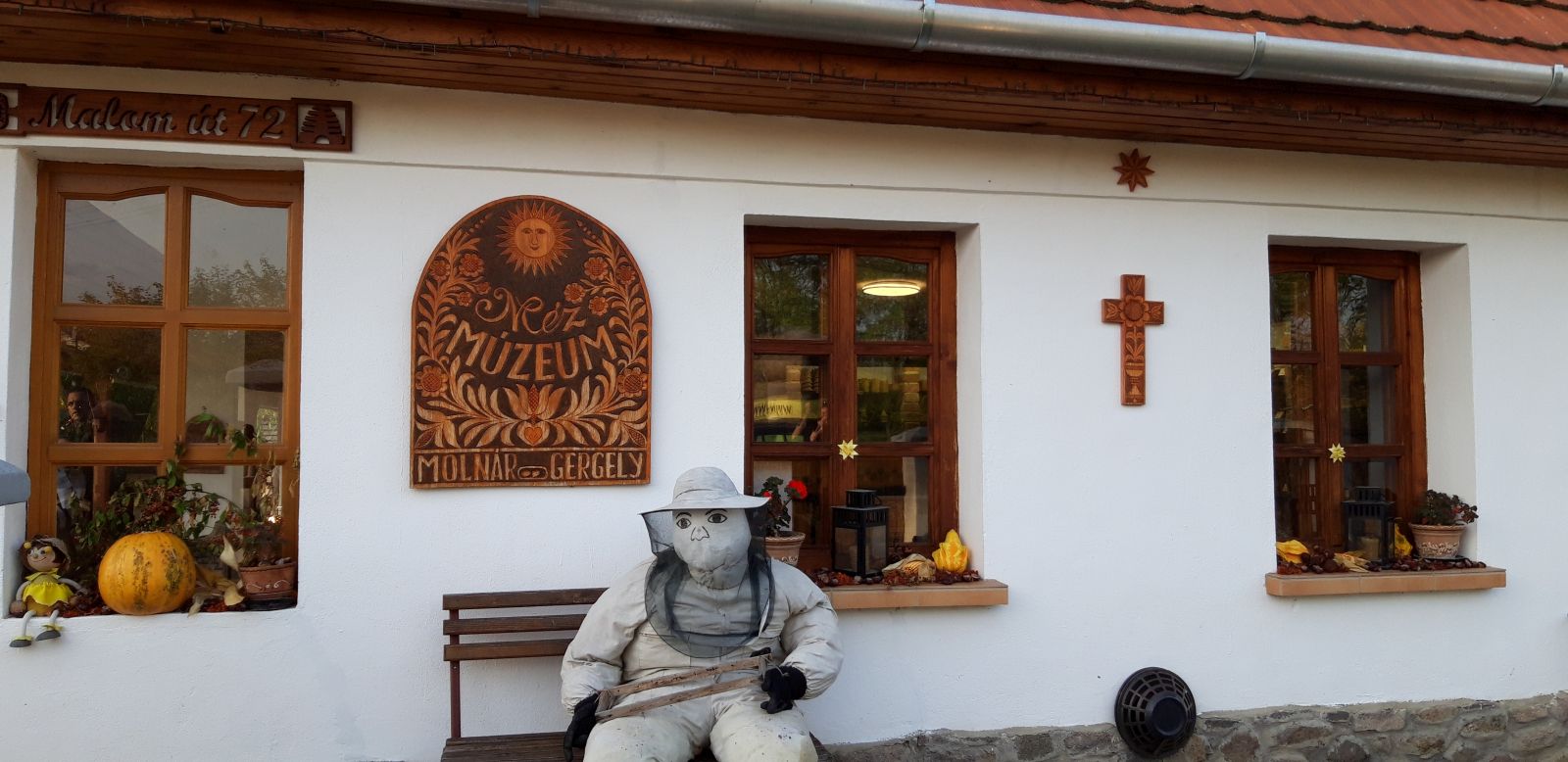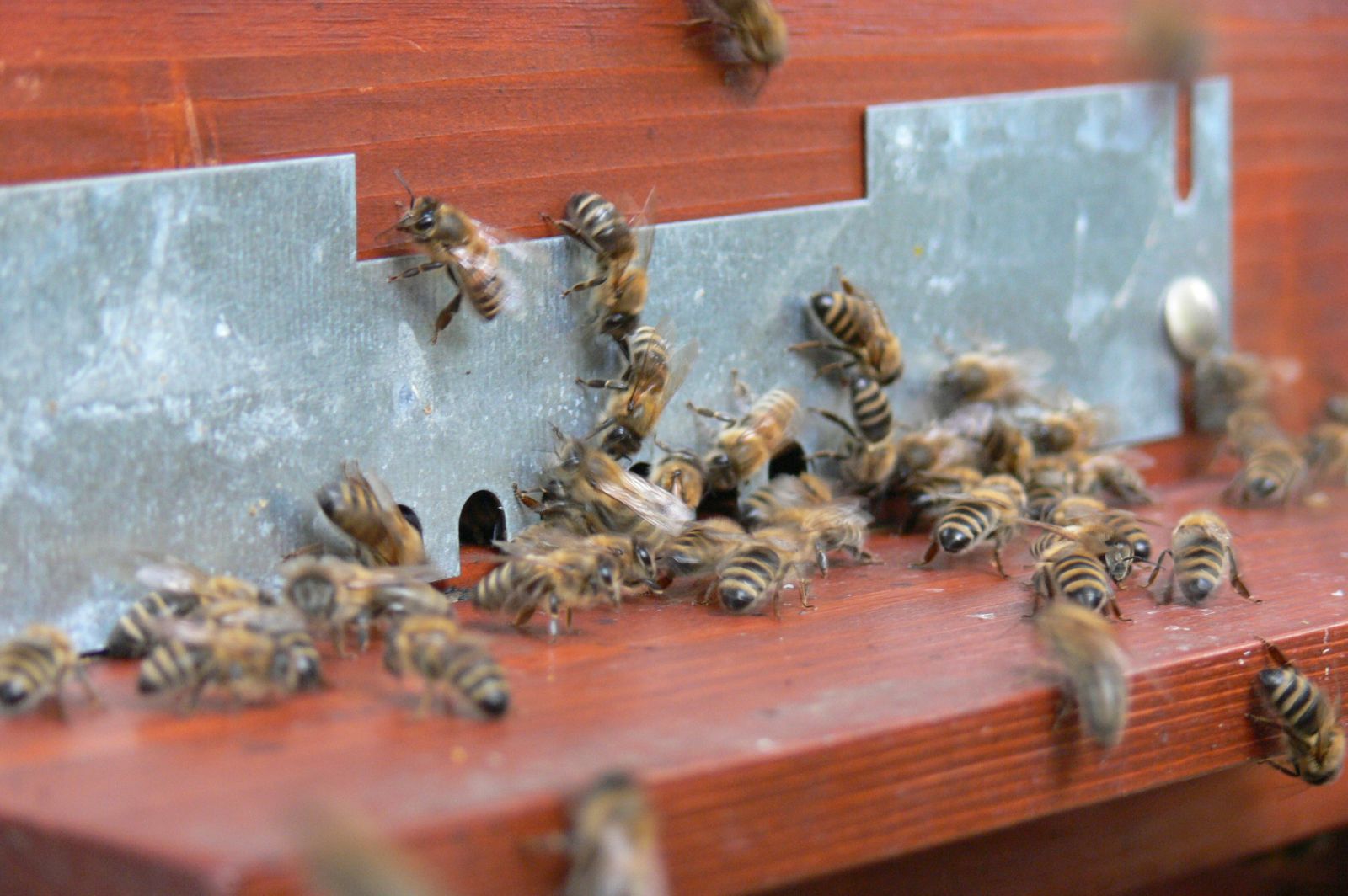 I guess he also has a great sense of business and marketing: years ago he started his career with the beehive he received from his grandma, and he had to borrow a car to take the honey to the market. Today they are selling all kinds of honey-related products in their beautiful shop, and they also created a museum, rent out accommodation and offer different apitherapy treatments to their guests. We eat lot of honey at home, so we ended up with a bag of jars of different flavours: orange, ginger, lavender, garlic, chili...We love them all, but my absolute favourite is honey with chili. We haven't opened the Christmas honey yet, we are saving it for the holidays.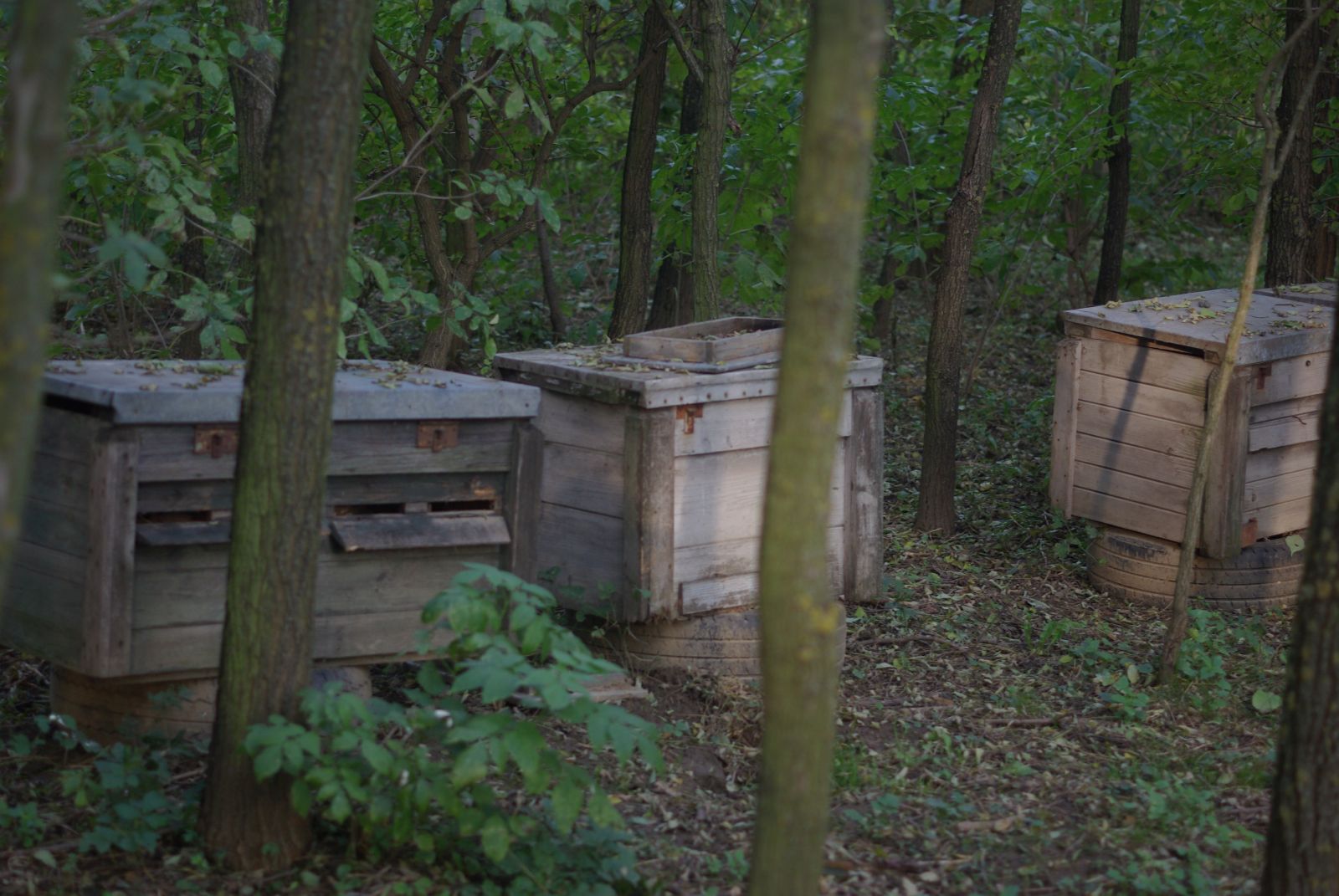 Gönc apricot PDO
Our next stop was in the village of Boldogkőváralja. No, not at the above mentioned castle, although we did stop for a quick photo. The castle dominates the view, rises high above the village and is surrounded by plantations of the famous apricot of Gönc. This apricot has a protected designation of origin (PDO), just like Parmesan cheese in Italy or Champagne in France, among many others. These hand-selected apricots are picked at the right moment and will turn into the most delicious jams and pálinka (fruit brandy).
I have to admit that despite my family name (Pálinkás), I am not a big fan of pálinka in general, I am a wine person. Still, I was really curious to finally taste the pálinka of Bestillo, one of the top fruit brandy makers of Hungary. I have heard a lot about this family-run company as one of the owners, Czakó Gábor, used to go to my Mom's class at high school. My Mom was even joking that behind every successful man there is a strong head teacher. Well, in this case I think it's actually a strong wife. Czakó Mónika greeted us at the distillery, she is vibrant, energetic and passionate about their work. We spent about 2 hours in their nice, modern tasting room, but we had the feeling she could talk about fruits and pálinka for days.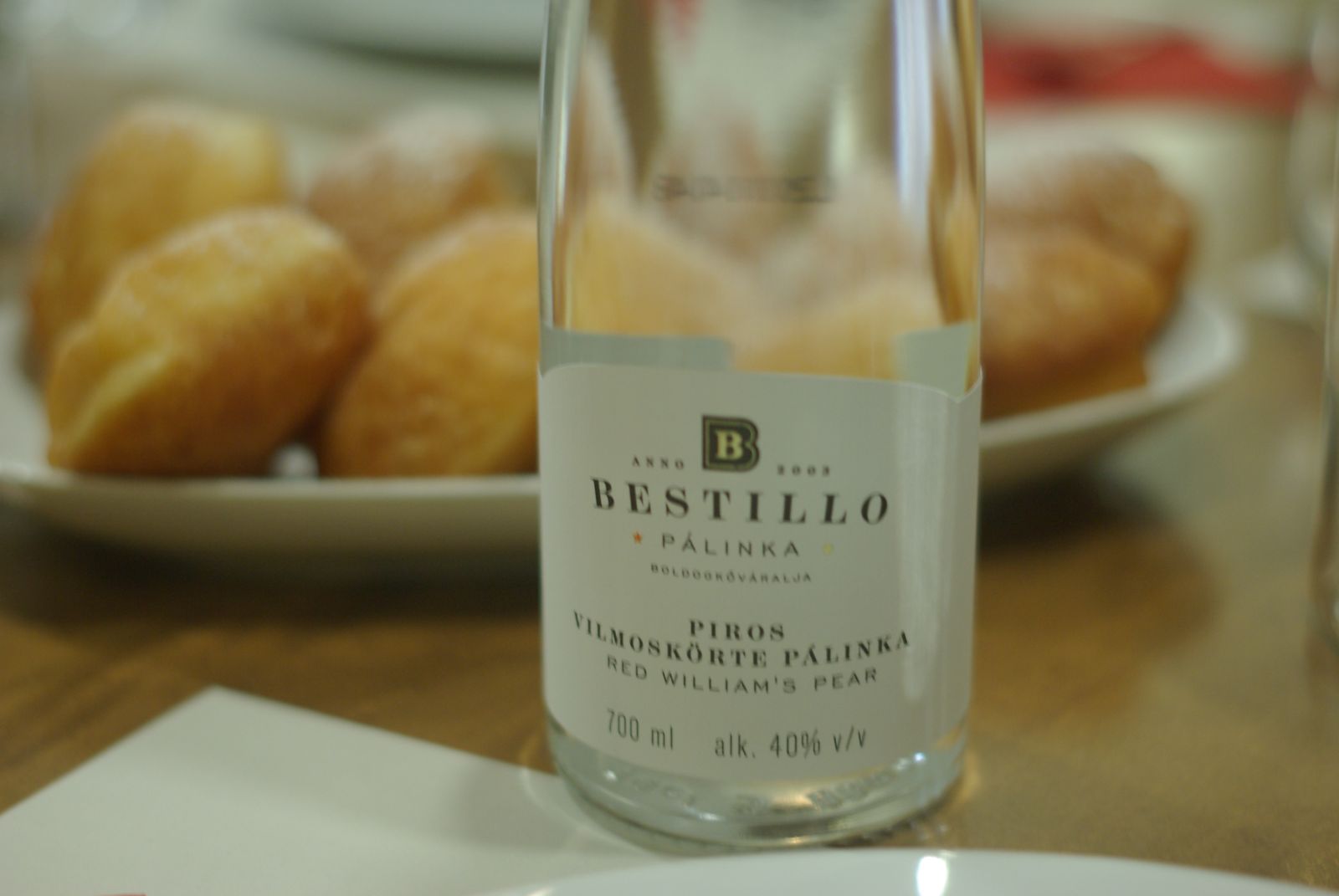 While we tasted the strong fruit brandy made of fruits like the above mentioned apricot, william's pear, quince or wild cherry, Mónika also shared their story with us. After spending their childhood in the village they moved away to the city, went to university and even lived in New Zealand for a while. Then after discovering the world they returned to their roots and founded Bestillo. They combine traditions with modern technology, hard work with passion, and in 12 years have become one of the leading pálinka brands of Hungary.
In addition we had typical Hungarian donuts with home-made apricot jam offerred by Kmetzné Bodnár Enikő. Enikő lives in the village as well, and she started making jams and fruit syrups not long ago. The whole sortiment was absolutely delicious, and in the end we picked a bottle of strawberry syrup and a bottle of apricot syrup to bring home with us. Drinking them felt like eating fresh fruit from the garden. After tasting all these wonderful local products there was only one question left: how are we going to have dinner?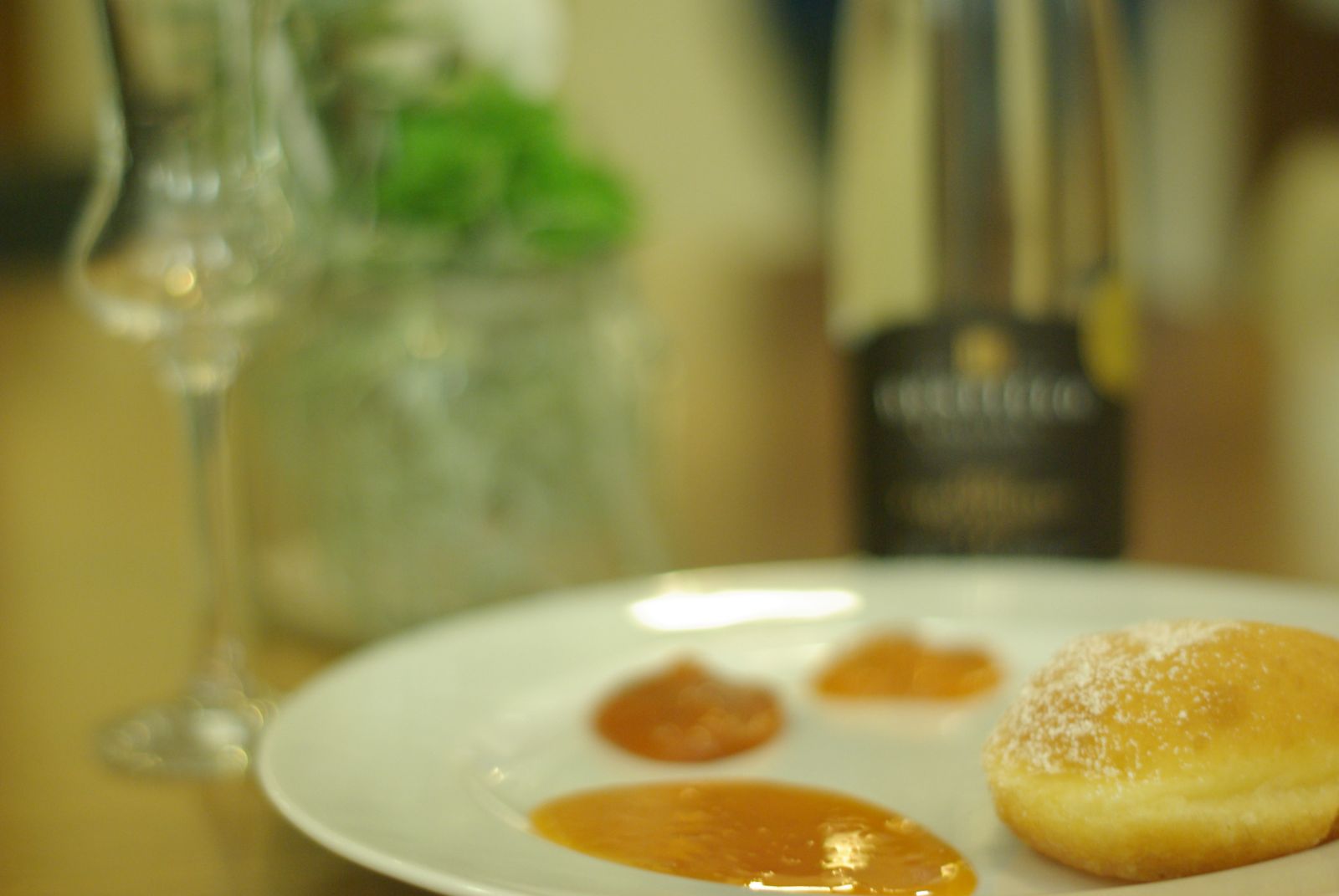 My Mother said
I was really looking forward to dinner at the Anyukám mondta restaurant in Encs. The name translates into "My Mother said" and was an excellent choice, as it's unique and easy to remember. The place is run by two brothers, Dudás Szabolcs and Szilárd, we used to go to the same school. I knew that they had been working in Italy gaining significant experience in gastronomy and years later they opened their own restaurant, which is considered one of the best restaurants in the Hungarian countryside. I have friends who drove 200 kms one way just to have lunch there. Previously I had only tasted their pizzas. As I worked in Italy as a tour leader for years, I was priviliged to taste amazing pizzas, especially in Naples. I am a big fan of the Margherita, in my opinion a good pizza does not need anything else on top. I have to say the pizza of Anyukám mondta met my high expectations, and now I was really looking forward to trying something new.
We got to taste a 3-course menu: leek cream soup, duck trio and Világbéke (world peace), a special cream dessert. All 3 courses were delicious and top quality, the previously unknown town of Encs was rightly added to the gastronomical and touristic map of Hungary. For wine I chose an excellent Primitivo from Puglia, as I am a huge fan of this Southern Italian region.
A night in the valley
We spent the night in a cosy guesthouse at the entrance of the Aranyosi Völgy (Aranyosi Valley), immersed in nature. I had previously driven by the guesthouse many times and it was great to finally stay there. Forest, crisp, fresh air and silence, that's all we needed at the end of a long day.