The alarm clock went off at 7 am, it was a sleepy Sunday morning. I looked out the window. The fog was so thick I could hardly see our garden. I would have loved to go back under the warm blanket, but we had work to do, our group of about 20 people was waiting for us in Szentendre. So we dressed up warm, packed our thermos and drove to the meeting point. While Attila was waiting for everyone to arrive, I went to pick up the wines for the tasting from the owner of Kőhegy wine. In the meantime I got a message from our Kazakh friends that they accidentally took the train to the wrong direction, so they would be late. We had to leave without them, but we sent them GPS coordinates to our first stop. They are smart university students living in Hungary, so I was sure they would find us.
So we started our 8 km hike to the Kőhegy, which translates into "Stone mountain", although it's not very high (366 m). During the first half an hour it was still foggy, making the experience a bit mystical.
Once we got to the former house of Béla Hamvas, a Hungarian writer and philosopher, the sun came out, and blue sky and bright colours made the house and its garden even more magical. The house hides in the forest and is like a retreat, a place for tranquility and inspiration. The current owner, Gyöngy, opened its gate for us and gave us the chance to experience the positive energy of this place for a few hours. Her personality harmonizes with the house, she is quiet, warm-hearted and lives a simple life. She prepared tea made of herbs she picked on Kőhegy, cooked chestnuts and baked quince from the huge garden. The tea and the campfire warmed us up after a cold morning. We found out there was a journalist/travel blogger in our group. He didn't tell us but I actually read his travel blog, so I recognised him. He has been working on his first novel and he feels this house could be the perfect location for him to finish his book. I hope he will be able to rent the house and find the peace and inspiration he is looking for.
I love every detail about this house, inside and outside as well.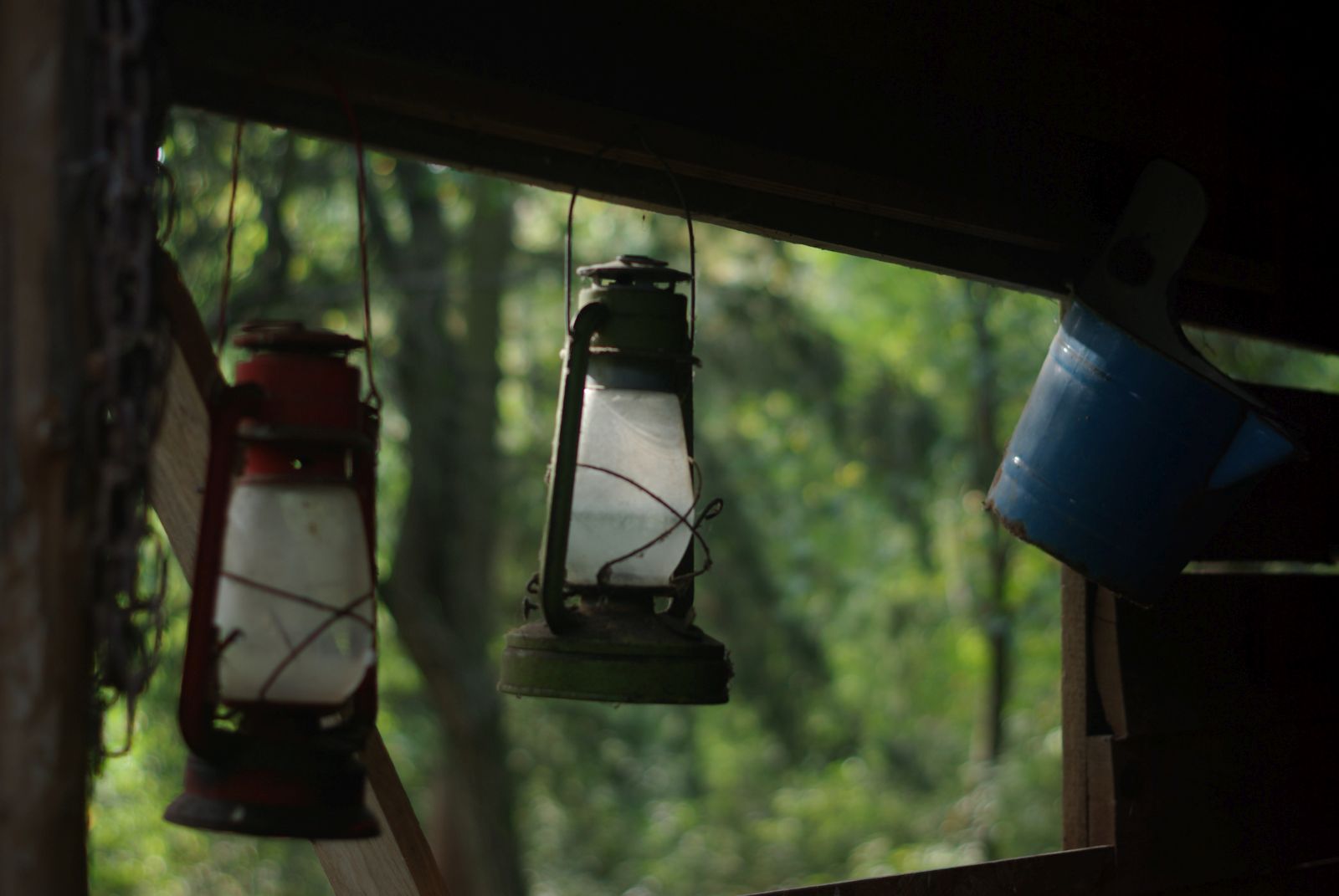 While we were relaxing by the fire, our Kazakh friends arrived as well, and joined quickly the conversation. Some of them have only seen city buildings in Budapest so far, so they were very happy to visit a Hungarian country house.
Once we said goodbye to Gyöngy, we continued our hike to the top and enjoyed the special atmosphere of Kőhegy. It's mainly nature, but you can also see some houses scattered around the mountain.
When we got to the top, we walked directly to the Petőfi lookout point, named after a very famous Hungarian poet. The views were stunning with the fall colours, exciting rock formations, Szentendre on one side and the outlines of the Pilis and the Budai mountains on the other side, in the haze. Everyone seemed happy here, some people just enjoying the late autumn sunshine, others making new friends, while the Kazakh girls took several beautiful photos for their insta profiles.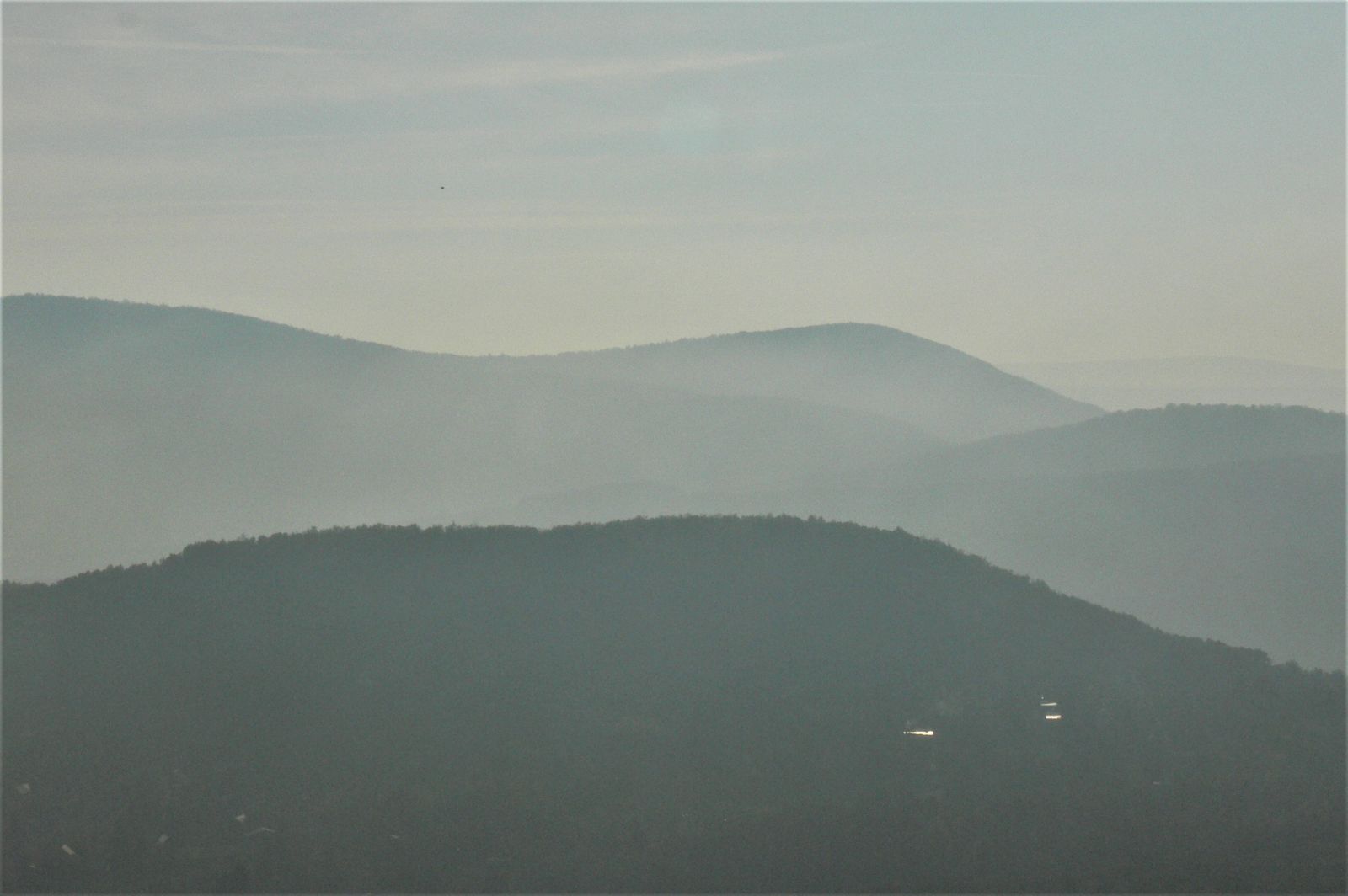 Whenever we hike or do a canoe tour, we like to add some culture and gastronomy to the experience. Today we added a touch of literature by visiting the house of Béla Hamvas and quoting some of his words. So now it was time to satisfy our taste buds. We carried in our backpacks three bottles of Kőhegy wine, two whites and a red.
This area used to be a very famous wine region, and there is evidence that wine was made here already in the 2nd century, by the Romans. Later Hungarians continued the tradition, and made excellent white wines around Szentendre. After 150 years of Ottoman rule villages and towns were destroyed, inhabitants disappeared. Different nations were invited to settle in Hungary, so during these years Serbian people travelled up north on the Danube. They have brought their culture and traditions with them, along with some grapevines and the knowledge to make top quality red wine. So the area was famous for its red wines until the end of the 19th century when phylloxera killed most of the grapes in Hungary.
In 2014 a passionate team decided to revive wine making on the Kőhegy. In 2018 they bottled their first wines and today they offer 8 different wines. We tasted Múmia (mummy), a Merlot, Tömjénes, an Irsai Olivér and Vulkán (volcano), a Pinot Blanc. This area is of volcanic origin, we were actually enjoying the Vulkán wine on the edge of an ancient volcano. When I picked the three wines, I originally chose a Chardonnay (Bükkös, named after the creek of Szentendre), but the owner suggested to take the Vulkán wine instead. I am very happy I accepted his proposal, as this was the favourite of most of the group. They are a small company, so you can mainly purchase their wines locally in Szentendre or online: kohegybor.hu. You can usually find them at the beautiful farmers' market of Szentendre on Saturdays, along the Bükkös creek.
Once all the bottles were empty, we walked back to the plateau, to the Kőhegyi Menedékház, which is a cultic "hütte". It's been around since 1933. Although we are not in the Swiss Alps the house does have an alpine hütte feeling and is very popular among hikers. We had some hot spicy wine, a delicious sausage soup and some pancakes. I called them in advance and although they were very busy, they provided a vegetarian option for our Kazakh friends, for which we are very grateful. Oh, and we also had some "zsíroskenyér", bread with lard on top. Whenever I have zsíroskenyér, I remember the times when I lived in Canada and then later in Italy. Sometimes I was telling my local friends how much I was missing zsíroskenyér. Needless to say, they were all asking me, how can you eat that? Well, I can't explain it, you just have to try it. So if you go hiking in Hungary on a cold day, and you get to a "hütte", just ask for a zsíroskenyér and a hot wine or hot tea for a real Hungarian winter experience.